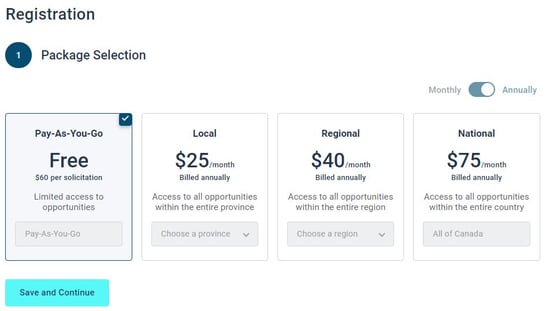 Step 1
To subscribe to the MERX Private Construction service, simply sign up for a free MERX Canadian Tenders Basic Pay-As-You-Go account as shown on the right.
Once you have completed your information, you will receive an activation email that includes a special link. Follow the instructions from the email.
I have an account
If you already have a MERX Canadian Tenders Basic Pay-As-You-Go account or you recently activated your account, login and continue to step 2.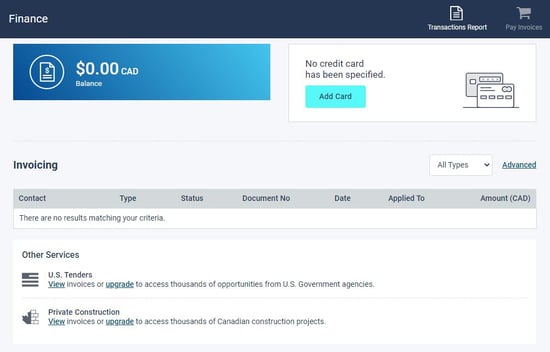 Step 2
Once logged in, select FINANCE from the pull down menu from the person icon.
Then, simply click on upgrade from the Other Services section for Private Construction, as shown in the image on the right.
You are not required to enter your credit card to continue.
Want to learn more about Canada's most complete source of construction projects?
MERX Private Construction is your one-stop shop for all construction project information.
If you need help selecting the best package for your interests fill out the form and a representative will contact you shortly.
While you wait, here are some reasons why you should subscribe today:
Search Canadian construction projects by Region or by Project Type

Quickly identify projects suited to your business or skill set
with our exclusive access to our MERX Construction Reports.

Personal Opportunity Matching Profile

Receive automatic notification by email of projects suited to your business or skill set.

Project tracking tool

Use this information to engage with prospective customers
and partner at the right time, with the right information and
with the right offering.




Flexible subscription options

Pick a city, region, province or a Canada wide subscription, we've got you covered.




Identify potential partnerships

MERX Construction Reports are filled with information on General Contractors, Architects and Engineers associated
with the projects.

24/7 access and great Customer Support

Access to the service is available 24/7 and our Customer Service department is available from 7:00am to 8:00pm,
(ET) Monday to Friday (excluding Public Holidays).
I want help selecting which subscription package is best for me